Israel's Mission to the Moon
(2019)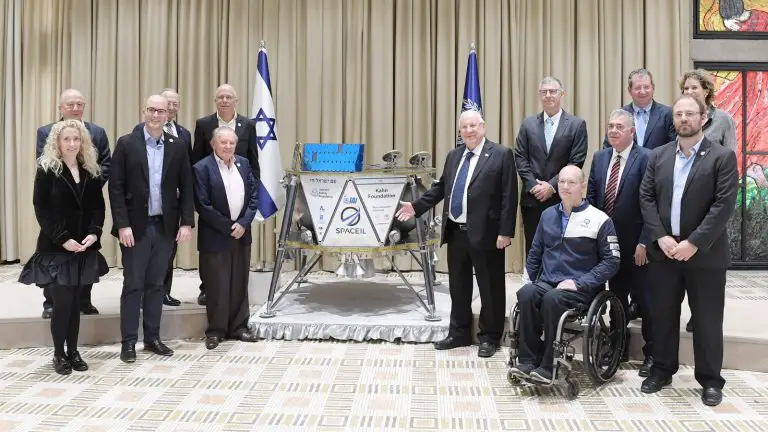 Israeli President Reuven Rivlin received SpaceIL's Beresheet
spacecraft as a national project in a meeting with leaders of SpaceIL
and IAI, January 17, 2019. Photo by Amos Ben-Gershom/GPO
After eight years of preparations by 250 people, $100 million and a large dose of Israeli chutzpah, the SpaceIL Israeli unmanned spacecraft Beresheet lifted off from Cape Canaveral Kennedy Space Center on February 21, 2019, aiming to reach the Moon on April 11.
At a prelaunch press conference, SpaceIL and Israel Aerospace Industries (IAI) officials and the project's main donor, Morris Kahn, were beaming as they described their pride in what will be the first-ever commercial, non-governmental mission to the Moon.
The name Beresheet ("in the beginning" or Genesis, the first word in the Bible) was chosen by popular vote. IAI Space Division General Manager Opher Doron quipped that maybe the craft's name should have been chutzpah, which translates as "nerve," "moxie" or "audacity."
Indeed, Kahn said most people he approached for donations to put a spacecraft on the Moon thought he had lost his marbles.
"It was very difficult to raise money for this mission because it was really a mission impossible," said Kahn. "I didn't realize it was impossible and the three engineers who started this project didn't realize it was impossible, and the way we in Israel think, nothing is impossible. We dare to dream. And we really are making this dream come true."
The 160-kilo Beresheet craft, built at Israel Aerospace Industries, will be the smallest spacecraft ever sent to the Moon. Onboard is a time capsule containing hundreds of digital files, including a nano Bible, details about SpaceIL, Israeli national symbols and Israeli children's drawings. The craft also carries instruments to measure the magnetic field of the Moon.
The ship is carrying a disc encoded with a 30-million-page archive of human civilization built to last billions of years into the future. The idea of this "Lunar Library," according to its creator, Nova Spivack, "is to place enough backups in enough places around the solar system, on an ongoing basis, that our precious knowledge and biological heritage can never be lost."
Beresheet marks the first time a spacecraft will be hitching a ride to the Moon. It will be launched from a SpaceX Falcon 9 rocket carrying three satellites. After separating from the rocket, Beresheet will travel around Earth in progressively larger orbits, eventually entering the moon's orbit and landing on the surface.
SpaceIL CEO Ido Anteby said there are five big challenges ahead for Beresheet: the launch itself, communication, withstanding the seven-week journey of more than 6.5 million kilometers, lunar capture and the actual landing.
The probe's computer system unexpectedly rebooted, causing the craft to miss a scheduled maneuver to send it into an elliptical orbit around the Earth. Ground control set Beresheet back on course. A number of computer resets were believed to be caused by radiation.
Speaking of the upcoming landing, Eran Schmidt, Deputy Project Manager of SpaceIL and Head of Ground Operations, said, "We are going to send a command to the spacecraft to start (descending) and afterwards we will have 20 minutes when everything will work autonomously. So we need the sensor measurements to be good, the control system to act properly and we hope that we will not land in the middle of a crater on a rock. We are not in a position to forego the landing if we see something is not working correctly."
Tal Inbar, an Israeli space expert, added, "Each day that the space craft moves towards the moon, the dosage of radiation from the sun and from cosmic (sources) is higher and higher. After a successful landing, the main challenge will be the heat. The spacecraft won't (be operational) for long on the surface of the moon because it was not built to withstand the extreme temperatures there."
Once achieved, the probe will collect scientific data, including measurements of the magnetic field that could help scientists better understand how the moon was created some 4.5 billion years ago.
"There is always some danger but we are convinced we will be successful," Anteby said, adding that cooperation with NASA has been a critical component of getting the project off the ground.
SpaceIL, an independent initiative started in 2011 by Yariv Bash, Kfir Damari and Yonatan Winetraub, also was designed to inspire children to learn about science.
If successful, Israel will join the United States, China and Russia as the only countries to land a spacecraft on the Moon.
Artist rendering of the Beresheet flight path:
---
Sources: Abigail Klein Leichman, "Israeli spirits soar as Moon launch countdown begins," Israel 21c, (February 18, 2019);
Eric Mack, "Thirty-million-page backup of humanity headed to moon aboard Israeli lander," Cnet, (February 24, 2019);
The Media Line, "Israel's 'Beresheet' spacecraft faces hurdles ahead of historic moon landing," Ynet, (March 4, 2019).
Photos courtesy of SpaceIL.