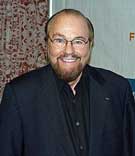 James Lipton is a Jewish American writer, poet, and actor and dean emeritus of the Actors Studio Drama school in New York City. He is the executive producer, writer, and host of the Bravo cable television series Inside the Actors Studio, which debuted in 1994.

Lipton was born on September 19, 1926 in Detroit, Michigan. His mother Betty (née Weinberg) was a teacher and his father Lawrence Lipton was a journalist with a column for the Jewish Daily Forward and a publicity director for a movie theater.

In Detroit, on radio's The Lone Ranger, Lipton portrayed Dan Reid, in the 1940s. Moving to New York, he was a writer for several soap operas and an actor for over ten years on Guiding Light. He portrayed a shipping clerk turned gang member in Joseph Strick's 1953 film, The Big Break, a crime drama.

Lipton was the book writer and lyricist for the short-lived 1967 Broadway musical Sherry! His book, An Exaltation of Larks, was first published in 1968. In 1983 Lipton published his novel, Mirrors, about dancers' lives. He later wrote and produced it as a TV movie. In television, Lipton has produced some two dozen specials including: twelve Bob Hope Birthday Specials; The Road to China, an NBC entertainment special produced in China; and the first time ever televised presidential inaugural gala, for Jimmy Carter.

In 1994, he arranged for the Actors Studio—the home base of "method acting" in the USA for some sixty years —to join with New York City's New School University, to form the Actors Studio Drama School, a formal degree-granting program at the graduate level. Lipton created a project within the Actors Studio drama school: a non-credit class called "Inside the Actors Studio" (1994) where successful and accomplished actors, directors, and writers would be interviewed and would answer questions from acting students. These sessions are also taped and broadcast on television for the general public to see. Lipton himself hosts the show and conducts the main interview.

Between 1954 and 1959, Lipton was married to actress Nina Foch. He has been married to Kedakai Turner, a model and real estate broker, since 1970.
---
Sources: Wikipedia;
Photo licensed under Creative Commons Attribution ShareAlike 2.5, Attribution ShareAlike 2.0 and Attribution ShareAlike 1.0.
Author: David Shankbone