Palestinian Authority Financing of Terrorism
Though the Palestinians have repeatedly pledged to end terrorism and incitement – Yasser Arafat's renunciation of terror was a prerequisite to the Oslo negotiations – the Palestinian Authority provides generous financial payments to terrorists and their families, creating incentives to attack Israelis.
According to laws passed in 2004 and amended in 2013, Palestinians and Israeli Arabs who are convicted of terrorism are entitled to monthly stipends. Men who have served at least five years in Israeli jails, and women who served at least two, are entitled to these "salaries" for life. Those imprisoned for three to five years receive $570 per month. Someone sentenced to 30 years or more is entitled to $3,400 per month. The more heinous the crime, the more money a prisoner receives. The government also provides health insurance and tuition for prisoners as well as their spouses and children. Families of terrorists who have died or were wounded receive $1,560 plus monthly checks for at least $364. Members of PLO factions arrested outside of "Palestine" are also entitled to benefits. Israeli Arabs and Arab residents of Jerusalem receive bonuses.
Once released, prisoners are given priority for employment. Any male ex-prisoner incarcerated for 10 or more years, and female who served five years, is entitled to a position in the PA. All former prisoners' social security and pension fees are paid according to the number of years they spent in jail. If their salary is lower than what they received in prison, the PA makes up the difference and, if a prisoner cannot be employed, they are still entitled to a monthly salary, disability payments and death benefits payable to their families (Douglas J. Feith & Sander Gerber, "The Department of Pay-for-Slay," Commentary, March 15, 2017; Thane Rosenbaum, "Palestinians are rewarding terrorists. The U.S. should stop enabling them," Washington Post, April 30, 2017).
The PA, which has been in dire financial straits, and is completely dependent on foreign aid for its survival, spends roughly $140 million for payments to terrorists who are in jail or have been released. In 2016, more than 32,500 martyrs' families received payments of approximately $175 million. The figure for 2017 was $347 million constituting roughly 7 percent of the PA budget. On March 4, 2018, Palestinian Authority Chairman Mahmoud Abbas approved the PA's 2018 budget of approximately $5 billion. Roughly 7% of the budget (approximately $360 million) is allocated to two institutions that assist terrorists imprisoned in Israel, released terrorists, and families of "martyrs." The institutions are the Commission of Detainees and Ex-Detainees Affairs and the Fund for Families of Martyrs and the Injured.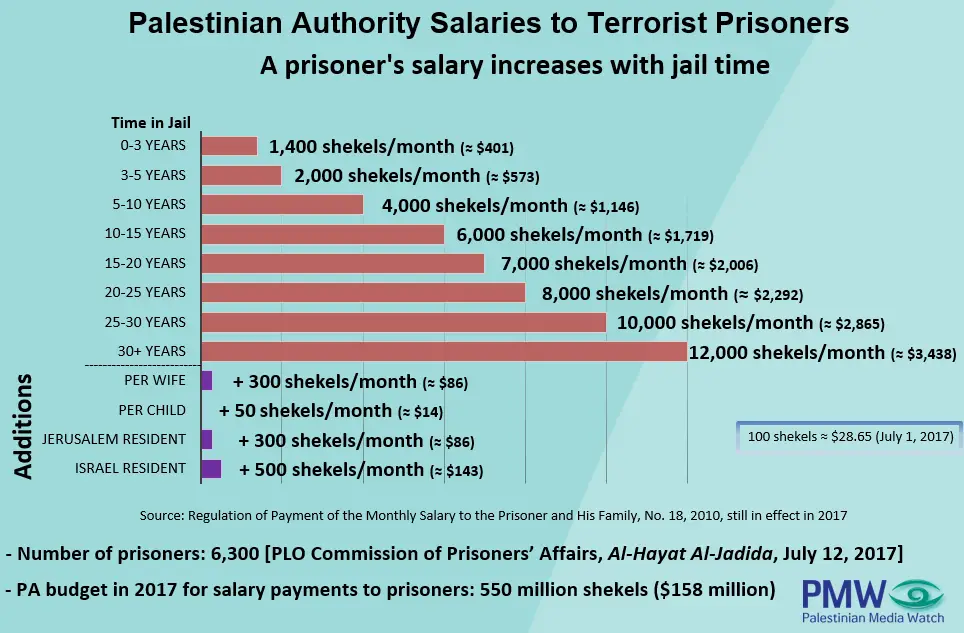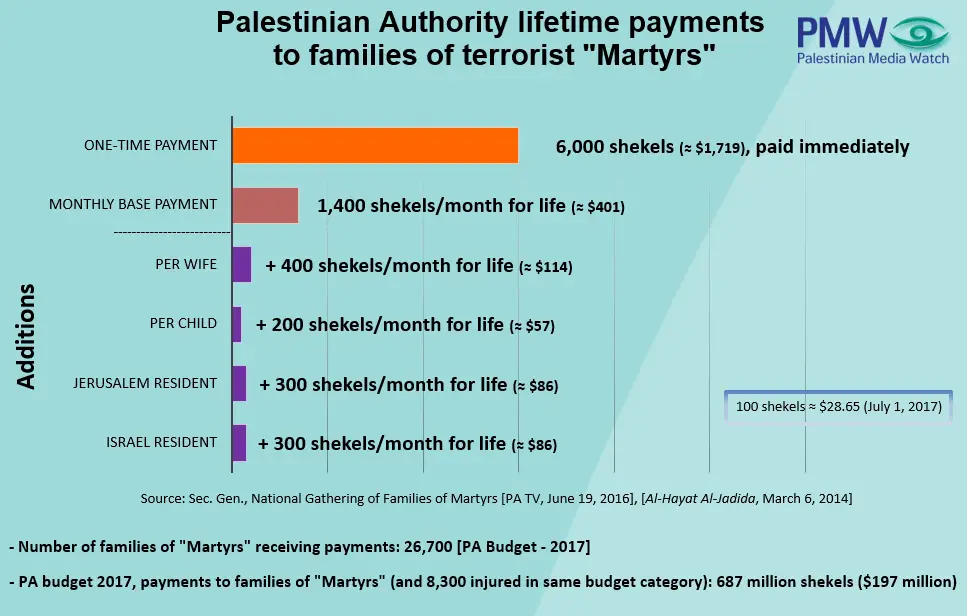 The United States and some European countries have realized they are underwriting this "pay-for-slay" policy and called on Mahmoud Abbas to cease these payments. During their meeting in Bethlehem on May 23, 2017, President Donald Trump told Abbas to end the program, reiterating the demand he had made in their May 3 meeting at the White House (Nathan Guttman, "How Payments To Terrorists Became An Issue At The Trump-Abbas Meeting," Forward, May 4, 2017;Jack Moore, "Trump Raged At Palestinian Leader Mahmoud Abbas In Bethlehem Meeting: 'You Lied To Me,'" Newsweek, May 29, 2017).
On June 13, 2017, Secretary of State Rex Tillerson told senators that pressure from the president led the PA to change its policy. Palestinian officials, however, quickly denied Tillerson's claim. "There is no end to the payments" of Palestinian prisoners, declared Issa Karake, head of the Palestinian Committee of Prisoners' Affairs. "We reject ending the subsidies to the prisoners and families of martyrs. We will not apologize for it" (Dov Lieber, "Defying US, Palestinian official vows payments to terrorists will continue," Times of Israel, June 14, 2017).
According to Karake, Abbas told Trump he would not "stop the allowances of the families of the prisoners and Martyrs (Shahids), and emphasized his absolute support for them (i.e., for the payments)." Other Palestinian officials made similar comments (Itamar Marcus and Nan Jacques Zilberdik, "Did the PA lie to the US Secretary of State?" Palestinian Media Watch, June 14, 2017).
Following the Palestinian statements, Tillerson modified his testimony before a House committee on June 14, 2017, saying the United States was engaged in an "active discussion" on the payments and that "we've taken the position to the Palestinian Authority in a very unequivocal way." Tillerson said he told the Palestinians, "You either take care of this yourself or someone else will take care of it for you" (Eric Cortellessa, "Tillerson waters down statement that Palestinians 'changed policy' of terror payments," Times of Israel, June 14, 2017).
In a meeting with Palestinian officials on June 20, 2017, Trump's envoy Jason Greenblatt reiterated the demand that the Palestinians cease payments to the so-called Martyr's Fund. A Palestinian official said the meeting did not go well and the request was rejected (Kushner kicks off Mideast peace push with first solo visit, Associated Press, June 21, 2017).
Abbas, however, not only refuses to halt the stipends to terrorists, he has increased the amount allotted to them and their families in 2018 by nearly $56 million (Itamar Marcus, "PA defies US, will raise payments to Martyrs' families," Palestinian Media Watch, April 9, 2017; "Abbas will continue to pay Palestinian prisoners, PA minister says," Times of Israel, April 29, 2017; Lahav Harkov, "Palestinians Increase Payments To Terrorists To $403 Million," Jerusalem Post, March 6, 2018).
Angered by the Palestinians' use of American tax dollars to fund terror attacks that have killed Americans as well as Israelis, Congress passed legislation to cut U.S. funding to the Palestinian Authority – now approximately $400 million annually – if it continues the "pay-for-slay" policy. The Taylor Force Act, is named for Taylor Force an American Army veteran who was stabbed to death by a Palestinian terrorist in Jaffa. The bill was signed into law on March 23, 2018.
Israel will deduct the amount of money that the Palestinian Authority gives to terrorists and their families from the taxes and tariffs Israel collects for the authority after the Knesset passed the Anti-"Pay for Slay" bill into law July 2, 2018 (Gil Hoffman, "Historic Anti-Pay For Slay Bill Passes Into Law," Jerusalem Post, July 2, 2018).
The government of Australia also stopped giving direct aid to the Palestinian Authority due to concerns that the money is being used to pay Palestinian terrorists and their families ("Australia ends direct aid to Palestinian Authority, citing payments to terrorists," JTA, July 2, 2018).
Undeterred by the criticism, the PA has continued to pay terrorists. In July 2018, for example, a Palestinian terrorist who murdered a 31-year-old Israeli and wounded two other people was designated as a "martyr" making him eligible for a one-time grant and a monthly salary (Shiri Moshe, "Family of Palestinian Who Killed Israeli Father Expected to Receive $1,600 Grant, Monthly Salary as Reward," theAlgemeiner, July 31, 2018).
In February 2019, Israel implemented one part of the 2018 anti-"Pay-for-Slay" law and started to deduct the sum the PA spent in 2018 paying salaries to terrorist prisoners and released prisoners from the 2019 tax revenues Israel collects and transfers to the PA. Abbas subsequently said he would refuse to accept any of the money "if Israel deducts even one penny from it."
Abbas may have expected the international community to make up for the shortfall and pressure Israel to reverse its position, but this did not happen. For example, EU Commissioner for European Neighborhood Policy & Enlargement Negotiations Johannes Hahn said, "We are all aware of the fiscal crisis the PA is facing and of the potential human, social and security consequences...At the same time, we do not support the system of Palestinian payments to 'prisoners and martyrs.'"
As the negative impact of losing tens of millions of dollars in revenue became clear, Abbas agreed in August 2019 to accept two billion shekels and, in October, another 1.5 billion shekels (Maurice Hirsch and Itamar Marcus, "PA capitulates to Israel's anti-'Pay-for-Slay' law," PMW, October 6, 2019).
Despite the economic hardship, the PA distributed approximately $148 million to prisoners in 2019, a 3 percent increase from 2018. The overall expenditures of the PA ministry for prisoners and released prisoners amounted to approximately $173 million (Yossi Kuperwasser, "If the PA Lacks Funds to Combat the Coronavirus, It Should Stop Paying Salaries to Terrorists," JCPA, March 27, 2020).