Views on Israel of U.S. Presidential Candidates 2020:
Bernie Sanders
(1941 - )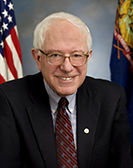 Bernie Sanders * is an Independent politician and candidate for President in 2020. He was born in New York on September 8, 1941, to Jewish working-class immigrants from Poland. Sanders was never especially religious, and according to one of his childhood friends, "Some of us went to Hebrew school, but mainly it was an identity in that it got us out of school on Jewish holidays."
Growing up, Sanders noticed innequality and economic disparity everywhere around him. After spending one year at Brooklyn College, Sanders transfered to the University of Chicago where he became heavily involved in the civil rights movement. He knew Dr. Martin Luther King and worked with the Student Non-Violent Coordinating Committee (SNCC). During his time at college and immediately after, Sanders participated in as well as organized many rallys, protests, sit-ins, and other activities.
Sanders moved to Israel for six months following his college graduation and worked on a kibbutz, before making his way back to the United States and settling in Vermont. For many years the identity of the kibbutz Sanders was involved with in Israel remained a mystery, but in February 2016 an article in the Haaretz archive from 1990 was uncovered in which Sanders said he stayed on Kibbutz Sha'ar Ha'amakim in the North.
When he first arrived in Vermont, Bernie lived in poor conditions in an abandoned mill with dirt floors, and made a living writing as well as doing various odd jobs. Sanders found his calling after attending a local meeting of the Liberty Union political party, and over the next decade ran two Senate campaigns and two Gubernational campaigns as the party's nominee, but was unsuccessful. In 1977, he left Liberty Union and took a break from politics, attempting to make a living producing educational films for college students.
After being convinced by friends that he still had a strong base of support in Burlington, Sanders launched a mayoral campaign in 1980, and strategized to knock on as many doors as possible and address the issues that truly concerned the citizens. In his first political victory, Sanders was elected Mayor of Burlington in 1981. He won the election by a margin of only 12 votes. After serving as Mayor, in 1990 he successfully ran a campaign for the U.S. House of Representatives and was elected as an Independent. While serving as a Representative, Sanders earned a reputation for taking risks and tackling issues that others were not willing to touch. He vehemently opposed the Iraq war, citing the the human cost and adverse consequences for the economy. In 2006, Sanders defeated Richard Tarrant for a seat in the Senate.
Sanders held meetings with the Jewish community of Iowa, a pivotal primary state, during late September 2015. During these meetings he compared himself to Israel's first Prime Minister David Ben-Gurion, claiming that he believes Ben-Gurion was a Democratic socialist like him.
While reminiscing on his life and upbringing on NPR in early November 2015, Sanders recalled, "in the community that I grew up in, seeing people in the community who had numbers that were on their arms (pulls up sleeve) and these were the Nazis' identification numbers that they put on prisoners in the concentration camps. And I, certainly, was aware of the fact that much of my father's family was killed in the Holocaust." Speaking of his visit to the Polish village where his father grew up, he said, "it was a very traumatic experience for me as a young man to know that my father's family was killed by Nazis - killed by Hitler. And that left - if not intellectually - at least an emotional part of me that would say: God, we have got to do everything we can to end this kind of horrific racism and anti-Semitism, and I've spent much of my life to fight that."
In his book Why Bernie Sanders Matters, author Harry Jaffe delves into the background of the Vermont Senator. Bernie grew up in a tight-knit area of Brooklyn that was 80% Jewish, but did not live in an observant household. Jaffe described Sanders as a cultural Jew, explaining that he did have a Bar Mitzvah but his family did not have weekly Shabbat dinners. During an interview with Moment about the book, Jaffe stated based on interviews with Bernie's friends and family, he concluded "Sanders is not a practicing Jew in any way, shape or form. He's not an observant Jew in any way, shape or form. He married a Catholic woman. I would seriously doubt that he raised his one natural son as a Jew."
Sanders stated in People on January 20, 2016, "I am proud to be Jewish, and it's a very important part of my life." Despite this, Bernie has painted himself as a non-participant in much of the Jewish faith, even professing to the Washington Post in January 2016 that he is, "not actively involved with organized religion." He stated, "I think everyone believes in God in their own ways. To me, it means that all of us are connected, all of life is connected, and that we are all tied together." When asked on the Jimmy Kimmel show about his religious beliefs, Sanders skirted the question and confidently said, "I am what I am. And what I believe in, and what my spirituality is about, is that we're all in this together."
In 2001, Sanders was the only Jewish member of the House who disagreed with a resolution blaming all of the violence of the Second Intifada on Palestinian terrorism. Sanders was one of 45 representatives in 2004 who voted against a resolution expressing support for Israel's security fence after it was deemed illegal by the International Court of Justice. Sanders was one of 21 U.S. Senators who did not sign onto a resolution espousing unconditional solidarity with Israel during 2014's Gaza War.
Sanders told CNN anchor Wolf Blitzer on February 3, 2016, that he did not believe his identity as a Jew would hinder his ability to work with and compromise with Arab nations in the fight against ISIS.
An interview was uncovered from 1990 in the Haaretz newspaper archive, in which he said he would like to see the United States press Israel harder on the Palestinian issue. Sanders also stated during the interview that as a Jew he was embarassed by the Israel's trade with Latin American dictators.
During early 2016, Sanders was continously questioned about his foreign policy experience, or percieved lackthereof. Shooting back at detractors, Sanders stated over and over, "The most important foreign policy issue in the modern history of this country was the war in Iraq. I was right on that issue, Hillary Clinton was wrong."
When asked about reports that he was downplaying his Jewishness during the campaign at the March 6, 2016, Democratic debate in Flint, Michigan, Sanders responded that he is, "very proud to be Jewish," and that being Jewish is, "so much of what [I am]."
A poll of Israelis conducted in February 2016 of 499 Jews and 102 Arabs found that 38% of Israelis supported Clinton for President, 23% favored Donald Trump, and 7% backed Bernie Sanders.
Sanders told MSNBC that he believes that anti-Semitism is inherent within the BDS movement. "I think there is some of that, absolutely," Sanders said on March 22, 2016, when questioned about whether anti-Semitism is a driving force behind BDS. Sanders defended his stance, stating, "Israel has done some very bad things, so has every other country on earth. I think the people who want to attack Israel for their policies, I think that is fair game. But not to appreciate that there is some level of anti-Semitism around the world involved in that I think would be a mistake."
During an interview with the editorial board of the New York Daily News in early April 2016, Bernie Sanders stated his recollection stands that Israel killed "over 10,000 innocent people" in Gaza during Operation Protective Edge. The CEO of the Anti-Defamation League, Jonathan Greenblat, issued a statement following the interview's publication in which he asserted that "even the highest number of casualties claimed by Palestinian sources that include Hamas members engaged in attacking Israel is five times less than the number cited by Bernie Sanders."
Bernie Sanders conceded the 2016 nomination to Clinton at the Democratic National Convention on July 28, 2016, after receiving 1,894 delegates to Clinton's 2,807.
Sanders has been married twice: his first wife was Jewish but his current wife, Jane O'Meara Driscoll, is not.
---
Anti-Semitism
"I will do everything in my power, and I hope that every member of Congress will fight not only anti-Semitism, but racism and anti-Muslim activity so that we create a non-discriminatory society. But it is not antisemitic to be critical of a right wing government in Israel. That is not anti-Semitic." (Fox News Town Hall, April 15, 2019)
Asked about his defense of Rep. Ilhan Omar's anti-Semitic remarks, Sanders said: "I think that Ilhan has got to do, maybe, a better job in speaking to the Jewish community." (Fox News Town Hall, April 15, 2019)
"While I do not support the BDS movement, we must defend every American's constitutional right to engage in political activity. It is clear to me that this bill would violate Americans' First Amendment rights." (JTA, February 8, 2019) This was his reason for being one of the 22 Democrats who voted against the Strengthening America's Security in the Middle East Act of 2019 (76 senators voted aye) a bill that authorizes state and local governments to demand that contractors declare they do not support boycotts of Israel or its settlements in the West Bank. (JTA, February 7, 2019)
"It's absurd that the first bill during the shutdown is legislation which punishes Americans who exercise their constitutional right to engage in political activity. Democrats must block consideration of any bills that don't reopen the government. Let's get our priorities right." (@SenSanders January 6, 2019)
In a letter co-signed with Sen. Dianne Feinstein: "While we do not support the Boycott, Divestment and Sanctons (BDS) Movement, we remain resolved to our constitutional oath to defend the right of every American to express their views peacefully without fear of actual punishment by the government" (Haaretz, December 19, 2018)
U.S. - Israel Relationship
Chuck Todd: On the issue of the U.S. embassy in Jerusalem, would you move it back out of Jerusalem, if you thought it was a way to get a peace deal?

Sanders: "Yeah. I think it's something that we should — I can't give you a definitive answer, but yeah. The answer is, look, whether it is Iran and Saudi Arabia, whether it is Israel and the Palestinians, the United States needs to bring people together, needs an even handed policy."

Todd: Would you move the embassy, now, out of Jerusalem? Or would you keep it there for the present?

Sanders: "We'll take that one step at a time. It's something — you know, bottom line is, we need to be a — we are the most-powerful country on earth. Let's bring people together and try to bring peace." (NBC News, May 19, 2019)

Responding to a question about violence in Gaza: "I have been criticized over and over again, and I said this four years ago, and I repeat it to you right now: In terms of the Middle East, we need an evenhanded policy. Alright? I am a strong supporter of Israel's right to exist in peace and security. OK. I lived in Israel when I was a young man. But we need a policy which brings the Palestinians and the Israelis together. You've got a situation in Gaza right now where the unemployment rate for young people is 60 or 70 percent. People cannot leave the area. Does anyone think that that is going to result in long term peace– it is not. So the function of the United States is to play an evenhanded role in bringing the Israelis and the Palestinians together. It is difficult, it is complicated, I am no fan of Netanyahu, who is a rightwing leader, and the Palestinians have their problem with leadership, but our job is to do everything we can to try to bring a lasting peace to that very, very troubled region. And as president that's exactly what I will try to do." (Town Hall, Perry, Iowa, May 4, 2019)
"As a young man I spent a number of months in Israel. I worked on a kibbutz for a while," Sanders said in response to a question on his views regarding the Jewish state. "I have family in Israel. I am not anti-Israel. But the fact of the matter is that Netanyahu is a right-wing politician who, I think, is treating the Palestinians extremely unfairly." He added: "The United States gives billions of dollars in military aid to Israel. I just believe that the U.S. should deal with the Middle East on a level-playing-field basis. In other words, the goal must be to try to bring people together and not just support one country, which is now run by a right-wing and, dare I say, racist government." (Haaretz, April 23, 2019)
"When election time comes in Israel, he always tries going even further to the right by appealing to racism within Israel, I think it's unfortunate....I'm not a great fan of his, and, frankly, I hope he loses his election." (Haaretz, April 9, 2019)
"I think that Benjamin Netanyahu is an extreme right-wing leader in Israel....I do not support his policies, and I think that to speak out against Netanyahu is not to be anti-Israel." (Times of Israel, April 8, 2019)
Sanders spotlighted the United States's leverage in Israeli politics, because of its alliance and economic support ("$3.8 billion is a lot of money!"). Asked if he would make that aid contingent, on greater political rights for Palestinians. Sanders responded, "I'm not going to get into the specifics." (The New Yorker, April 13, 2019)
"I gotta tell you, I am not a great fan of President Netanyahu. I did not attend the speech that he gave before the joint session of Congress. I think it was opportunistic. I think he was using it as part of his campaign for re-election. I think he was being used or did use the Republicans to go behind the president's back. And I think in that region, sadly on both sides, I don't think we have the kind of leadership that we need." (Times of Israel, February 1, 2016)
"The United States has got to work with the Palestinian people in improving their standard of living, which is now a disaster, and has been made much worse since the war in Gaza." (Times of Israel, November 18, 2015)
"The United States will support the security of Israel, help Israel fight terrorist attacks against that country and maintain its independence. But under my administration, the United States will maintain an evenhanded approach to the area." (Haaretz, November 9, 2015)
"Let me be very personal here if I may. I'm Jewish. My father's family died in the concentration camps. I will do everything that I can to rid this country of the ugly stain of racism which has existed for far too many years." (Jewish Insider, October 29, 2015)
"The United States of America is pouring billions of dollars into arms and into other types of aid in the Middle East. Has the United States of America used its clout, the tremendous clout that it has by providing all kinds of aid to the Middle East, to demand that these countries sit down and talk about a reasonable settlement which will guarantee Israel's sovereignty, which must be guaranteed, but will begin to deal with the rights of Palestinian refugees." (Alternet, July 2, 2015)
"A Zionist? What does that mean? Want to define what the word is? Do I think Israel has the right to exist? Yeah, I do. Do I believe that the United States should be playing an even-handed role in terms of its dealings with the Palestinian community in Israel? Absolutely I do. Again, I think that you have volatile regions in the world, the Middle East is one of them, and the United States has got to work with other countries around the world to fight for Israel's security and existence at the same time as we fight for a Palestinian state where the people in that country can enjoy a decent standard of living, which is certainly not the case right now. My long-term hope is that instead of pouring so much military aid into Israel, into Egypt, we can provide more economic aid to help improve the standard of living of the people in that area." (Haaretz, August 18, 2015)
"I have a problem with appropriating $2 billion dollars to Egypt and $3 billion dollars to Israel. Let's take care of some of the problems we have at home first." (House Floor, 1991)
"It is wrong that the United States provides arms to Israel. We are not going to be the arms merchant for Middle Eastern nations." (Press Conference at University of Vermont, 1988)
Iran
"I am working hard to see if we can get 51 members of the U.S. Senate, as well as a majority in the House of Representatives to make clear that before the President takes any military action in Iran or anyplace else, he must seek authorization from the Congress…. Taking us into a war without congressional authorization would be unconstitutional and illegal." (CBS News, May 14, 2019)

When asked if he would rejoin the Iran nuclear deal, a Sanders aide said that "as president, Sen. Sanders would rejoin the JCPOA and would also be prepared to talk to Iran on a range of other issues, which is what Trump should've done instead of simply walking away. Rejoining the JCPOA would mean meeting the United States' commitments under the agreement, and that includes sanctions relief." (Al-Monitor, March 19, 2019)
"Please don't suggest that I think we normalize relations with Tehran tomorrow. We don't. But I would like to see us move forward, and hopefully some day that will happen." (Democratic Presidential Debate, February 4, 2016)
"In terms of Iran and in terms of Saudi Arabia, of course they hate each other. That's no great secret. But John Kerry, who is I think doing a very good job, has tried to at least get these people in the room together because both of them are being threatened by ISIS." (Democratic Presidential Debate, February 4, 2016)
"I think what we've got to do is move as aggressively as we can to normalize relations with Iran, understanding that Iran's behavior in so many ways is something that we disagree with: their support for terrorism, the anti-American rhetoric that we're hearing from some of their leadership is something that is not acceptable. On the other hand, the fact that we managed to reach an agreement, something that I very strongly supported, that prevents Iran from getting a nuclear weapon - and we did that without going to war - and that I believe we're seeing a thaw in our relationships with Iran is a very positive step. So if your question is, do I want to see that relationship become more positive in the future? Yes. Can I tell you that we should open an Embassy in Tehran tomorrow. No I don't think that we should. But I think the goal has got to be, as we have done with Cuba, to move and warm relations with a very powerful and important country in this world." (Democratic Presidential Debate, January 18, 2016)
"It's so easy to be critical of an agreement which is not perfect. But the United States has to negotiate with, you know, other countries. We have to negotiate with Iran. And the alternative of not reaching an agreement, you know what it is? It's war. Do we really want another war, a war with Iran? An asymmetrical warfare that will take place all over this world, threatening American troops? So I think we go as far as we possibly can in trying to give peace a chance, if you like. Trying to see if this agreement will work. And I will support it." (Haaretz, August 18, 2015)
"The United States must do everything it can to make certain that Iran does not get a nuclear weapon, that Israel is not threatened by a nuclear Iran and that a nuclear arms race in the region is avoided." (The Hill, August 7, 2015)
"I congratulate President Obama, Secretary Kerry and the leaders of other major nations for producing a comprehensive agreement to prevent Iran from obtaining a nuclear weapon. This is a victory for diplomacy over saber-rattling and could keep the United States from being drawn into another never-ending war in the Middle East. I look forward to learning more about the complex details of this agreement to make sure that it is effective and strong" (Bernie Sanders Campaign Website)
"While much more work remains to be done this framework is an important step forward. It is imperative that Iran not get a nuclear weapon. It also is imperative that we do everything we can to reach a diplomatic solution and avoid never-ending war in the Middle East. I look forward to examining the details of this agreement and making sure that it is effective and strong." (PoliticsUSA, April 2, 2015)
"At this point, harsher sanctions won't stop Iran's nuclear program. Neither would a dangerous resort to military action. The sanctions currently in place have brought Iran to the bargaining table and current negotiations resulted in Iran freezing its nuclear program. And for the past year, Iran has been subject to heightened international inspections. All of those things have made us safer." (Response to Netanyahu's Congressional Address, March 3, 2015)
Hamas and the Situation in Gaza
"The bottom line is that Israel must have the right to exist in peace and security, just as the Palestinians must have the right to a homeland in which they and they alone control their political system and their economy." (Bernie Sanders Campaign Website)
"I think that Israel overreacted and caused more civilian damage than was necessary. They make the case, and I respect that, that they do try to make sure that civilians are not damaged. But the end result was that a lot of civilians were killed and a lot of housing was destroyed. There was terrible, terrible damage done." (Haaretz, November 9, 2015)
"You have a situation where Hamas is sending missiles into Israel... and you know where some of those missiles are coming from? They're coming from populated areas... Hamas has very sophisticated tunnels into Israel for military purposes. Hamas is very clear: their view is that Israel should not have a right to exist." (Mondoweiss, May 1, 2015)
Israeli-Palestinian Conflict
While I am very critical of Netanyahu's right-wing government, I am not impressed by what I am seeing from Palestinian leadership, as well," he said. "It's corrupt in many cases, and certainly not effective." (The New Yorker, April 13, 2019)
"And what I believe is that we, in fact, need a two-state solution to the Middle East ongoing crisis and that the United States needs to have an even-handed policy." (JTA, April 8, 2019)
"I have always and will always be 100 percent supportive of Israel's right to exist and live in peace and security. I also believe that lasting peace in the region will not occur without fair and respectful treatment of the Palestinian people. I believe that most Democrats agree with that position and that a strong consensus will be achieved at the Democratic National Convention." (Haaretz, May 27, 2016)
" I think that we will not succeed to ever bring peace into that region unless we also treat the Palestinians with dignity and respect, and that is my view... You can't ignore that fact. And you can't just be only concerned about Israel's needs. You have to be concerned about the needs of all of the people of the region." (CNN, April 10, 2016)
"I grew up in a Jewish neighborhood, I have lived in Israel, I'm a strong defender of Israel. But let me also say this, I think we cannot continue to ignore the needs of the Palestinian people and I would hope very much that I could move us forward in what has been so intractable over the years, bringing Palestinians, bringing Israelis together, bringing peace finally to the Middle East." (NBC, March 31, 2016)
"I spent many months on a kibbutz on Israel, so I know something about Israel. Israel has got to be defended, has a right to exist, but you cannot ignore the needs of the Palestinian people." (JTA, March 22, 2016)
"All I can tell you is I will make every single effort to bring rational people on both sides together so that hopefully we can have a level playing field, the United States treating everybody in that region equally. I know, I know there are people of good will in Israel and the Arab communities, this is not an easy task, but it is a task that we must pursue. We cannot continue to have for another 60 years with the kind of hatred and conflict that exists in the Middle East." (Jerusalem Post, March 9, 2016)
"What is going on in the Middle East right now is obviously a tragedy, there's no question about it. The sight of Israeli soldiers breaking the arms and legs of Arabs is reprehensible. The idea of Israel closing down towns and sealing them off is unacceptable. You have had a crisis there for 30 years, you have had people at war for 30 years, you have a situation with some Arab countries where there are still some Arab leadership calling for the destruction of the State of Israel and the murder of Israeli citizens. I don't have a magical solution to that problem." (Times of Israel, February 1, 2016)
"I believe in a two-state solution, where Israel has security and the Palestinians have a state of their own. The United States has got to work with the Palestinian people in improving their standard of living, which is now a disaster, and has been made much worse since the war in Gaza." "War is terrible unto itself. But I think that Israel overreacted and caused more civilian damage than was necessary (during 2014's Gaza war). They have very sophisticated weapons systems. They make the case, and I respect that, that they do try to make sure that civilians are not damaged. But the end result was that a lot of civilians were killed and a lot of housing was destroyed. There was terrible, terrible damage done." (Times of Israel, November 18, 2015)
"Palestinians are entitled to a state of their own, and the United States should do what it can to make sure that state has a strong economy. Israel is entitled to live in security, not be attacked." (Washington Post, August 4, 2015)
"I wholeheartedly support the new Obama administration is its commitment to expand our diplomatic presence in the region and to take a more active role in facilitating negotiations between Israel and the Palestinian leadership. A two-state solution must include compromises from both sides to achieve a fair and lasting peace in the region. The Palestinians must fulfill their responsibilities to arrest terrorists, confiscate terrorists' weapons, dismantle terrorist organizations, halt all anti-Jewish and anti-Israel incitement, and recognize Israel's right to exist. In return, the Israelis must end their policy of targeted killings, prevent further Israeli settlements on Palestinian land, and prevent the destruction of Palestinian homes, businesses and infrastructure"
"Has Israel overreacted? Have they bombed U.N. facilities? The answer is yes, and that is terribly, terribly wrong." (Haaretz, August 18, 2015)
"We are pouring billions of dollars in arms into Arab countries. We have the clout to demand they and Israel, who we're also heavily financing, to begin to sit down and work out a sensible solution to the problem which would guarantee the existence of the State of Israel and which would also protect Palestinian rights." (Haaretz, August 18, 2015)
ISIS
"My plan is to tell Saudi Arabia that instead of going to war in Yemen, they, one of the wealthiest countries on Earth, are going to have to go to war against ISIS... To tell Qatar, that instead of spending $200 billion on the World Cup, maybe they should pay attention to ISIS, which is at their doorstep." (Third Democratic Debate)
"ISIS is a brutal, awful, dangerous army and they have got to be defeated. But, Candy, this is not just an American problem. This is an international crisis. This is a regional crisis. And I think the people of America are getting sick and tired of the world and the region, Saudi Arabia and the other countries saying hey, we don't have to do anything about it. The American taxpayer, the American soldiers will do all the work for us." (Real Clear Politics, October 12, 2014)
*AICE does not rate or endorse any candidate for political office.
---
Sources: Amir Tibon, "Sanders, Feinstein Urge Senate to Reject anti-BDS Bill: 'Threat to Free Speech,'" Haaretz, (December 19, 2018);
Ron Kampeas, "Bernie Sanders blasts introduction of anti-BDS bill as 'absurd,'" Times of Israel, (January 7, 2019);
Ron Kampeas, "5 things to watch in another Bernie Sanders presidential campaign," JTA, (January 28, 2019);
Bryant Harris, "2020 Democrats vow to re-enter Iran nuclear deal," Al-Monitor, (March 19, 2019)
"Bernie Sanders Says He Hopes Netanyahu Loses," Haaretz, (April 9, 2019);
Benjamin Wallace-Wells, "Bernie Sanders Imagines a Progressive New Approach to Foreign Policy," The New Yorker, (April 13, 2019);
Sean Sullivan, "Sanders keeps distance from Omar, even as he defends her against accusations of anti-Semitism," Washington Post, (April 15, 2019);
Gregory Krieg and Annie Grayer, :Bernie Sanders backs Ilhan Omar again, but says she could do 'a better job' addressing Jewish community," CNN, (April 15, 2019);
Bernie Sanders Town Hall with Fox News, April 15, 2019;
Amir Tibon, "WATCH 2020 Hopeful Bernie Sanders Says Netanyahu Leads 'Racist Government,'" Haaretz, (April 23, 2019);
Town Hall, Perry, Iowa, (May 4, 2019);
Grace Segers, "Bernie Sanders says war with Iran would be "many times worse than the Iraq War," CBS News, (May 14, 2019).