Trump Administration: Trump and Israel
Key Staff
Early Meetings
First Foreign Visit
The United Nations
Recognition of Jerusalem
Iran
The "Ultimate Deal"
Other Developments
Reversing Policy on Settlements

Donald Trump was inaugurated as the 45th President of the United States on January 20, 2017.
Key Staff
Supporters of Israel uncomfortable with Trump's lack of political and, especially, foreign policy experience, looked to his son-in-law Jared Kushner for reassurance. Trump's daughter Ivanka had converted to Orthodox Judaism to marry Kushner and he was viewed as one of the new president's closest advisers. Kushner has a personal relationship with Netanyahu going back many years. He reportedly wrote the very pro-Israel speech Trump delivered at the AIPAC Policy Conference in 2016 and was expected to be a positive influence on the president's policy toward Israel.
Trump also chose two close friends, neither of whom had any foreign policy experience, to work directly with Israel. The first, David Friedman, a 57-year-old bankruptcy attorney was appointed ambassador to Israel. Friedman aroused controversy because of his role as the president of the Friends of Bet El, a settlement in the West Bank. Friedman also was an outspoken critic of the two-state solution and had angered some Jewish leaders when he referred to J Street as being worse than kapos and made derogatory remarks about the ADL. Friedman was confirmed after testifying before Congress that he would support the pursuit of a two-state solution and apologizing for the comments he had made about J Street. After Trump recognized Jerusalem as Israel's capital, he became the first U.S. ambassador to make an official visit to the Western Wall.
Trump's other surprising appointment was Jason Greenblatt, the executive vice president and chief legal officer to The Trump Organization, as Special Representative for International Negotiations. Greenblatt traveled to Israel and the West Bank in March 2017 and impressed many of his interlocutors with his open-mindedness. He spoke to Jews and Arabs with a variety of opinions, including Israeli settlers and Palestinian refugees, and presented the image of someone who would be a skilled negotiator. Palestinian President Mahmoud Abbas said after meeting the envoy he believed Trump was serious about reaching an agreement. Arab leaders who met with him on the sidelines of the Arab League summit in Jordan a few weeks later came away with the same opinion.
While the president repeatedly expressed his commitment to Israel and his intention to take a friendlier approach toward Israel and its prime minister – statements that alarmed the Palestinians -- some of Israel's supporters were concerned when Trump chose Exxon executive Rex Tillerson as secretary of state. Yet another appointee with no foreign policy experience, Tillerson had extensive ties in the Middle East due to his position in the oil industry, but, given that industry's traditional closeness to the anti-Israel oil-producers of the region, his views on Israel were uncertain. Early on, however, he sought to reassure Israel and its friends, stating during his confirmation hearings, for example, "Israel is, has always been and remains our most important ally in the region." He criticized Security Council Resolution 2334 and his predecessor's "troubling" speech condemning Israeli policy. "The president-elect has already made it clear that we're going to meet our obligations to Israel as the most important ally in the region." He also expressed skepticism about negotiations with the Palestinians so long as they refuse to recognize Israel as Jewish state and cease terrorism. Tillerson also vowed support for congressional action to combat the BDS movement and a full review of the Iran nuclear deal, which he opposed.
Tillerson was replaced as Secretary of State by Mike Pompeo on March 13, 2018, who was viewed as more sympathetic to Israel and hostile toward Iran. In March 2019, Pompeo became the first Secretary of State to pay an official visit to the Western Wall, ending a longstanding taboo. During his trip, Pompeo said that Israel has no better friend than the United States, and that Israelis "can be confident that President Trump will maintain this close bond."
In April 2018, John Bolton replaced H.R. McMaster as National Security Adviser. Bolton is considered especially hawkish on dealing with Iran and a strong friend of Israel.
In mid-June 2018, Greenblatt and Kushner travelled to the Middle East to test the waters for a potential Israeli-Palestinian peace plan and explore options for rehabilitating Gaza. Greenblatt and Kushner met with officials in Jordan and Israel to discuss these topics, but Palestinian leaders refused to meet with the U.S. delegation.
Early Meetings
Trump held his first meeting with a leader of the Arab world, King Abdullah of Jordan, on February 2, 2016. After the meeting, the White House issued a statement clarifying that while they "don't believe the existence of settlements is an impediment to peace, the construction of new settlements or the expansion of existing settlements beyond their current borders may not be helpful in achieving that goal."
Two days after his inauguaration Trump had called Israeli Prime Minister Benjamin Netanyahu to discuss the Iran nuclear issue as well as the regional threat of ISIS. Trump invited the Prime Minister to visit the White House, which he did on February 15, 2017. During a joint press conference with the Prime Minister, the President dropped the historic U.S. commitment to a two-state solution to the Israeli-Palestinian conflict, stating I'm looking at two states and one state, and... I can live with either one. Appearing to startle the Israeli leader, Trump later suggested that he would like to see [the Israelis] hold back on settlements for a little bit.
Trump also surprised Netanyahu by publicly urging the prime minister to "hold back on settlements for a little bit." Prior to their meeting, the White House had told Israel to stop announcing new settlements. Press secretary Scott Spicer said, "While we don't believe the existence of settlements is an impediment to peace, the construction of new settlements or the expansion of existing settlements beyond their current borders may not be helpful in achieving that goal." To read a full transcript of the joint press conference, please click here.
On May 3, 2017, President Trump hosted Palestinian Authority President Mahmoud Abbas in the White House.
The Washington Post reported on May 15, 2017, that five days earlier Trump had revealed highly classified information in a White House meeting to Russian Foreign Minister Sergei Lavrov and Russian Ambassador to the U.S. Sergey Kislyak. It was subsequently revealed that the information had been obtained by an Israeli source embedded within ISIS in Syria. Israeli officials feared that the leak could compromise intelligence sources and put Israeli agents in danger.
The administration also declared National Jewish American Heritage Month in May 2017.
First Foreign Visit
President Donald Trump embarked on his first foreign trip as President on May 19, 2017, with plans to visit Saudi Arabia, Israel, the Vatican, and then various European nations on a 9-day trip. On May 21, 2017, Trump arrived in Israel on the first ever direct flight from Riyadh, Saudi Arabia to Tel Aviv, and was greeted by a red-carpet ceremony at Ben-Gurion International Airport. After issuing joint statements with Israeli Prime Minister Netanyahu, Trump met with Israeli President Reuven Rivlin and then toured Jerusalem's Old City with his entourage. President Trump wore a Yarmulke and prayed at the Western Wall during the afternoon of May 21, 2017, becoming the first sitting President to ever visit the holy site.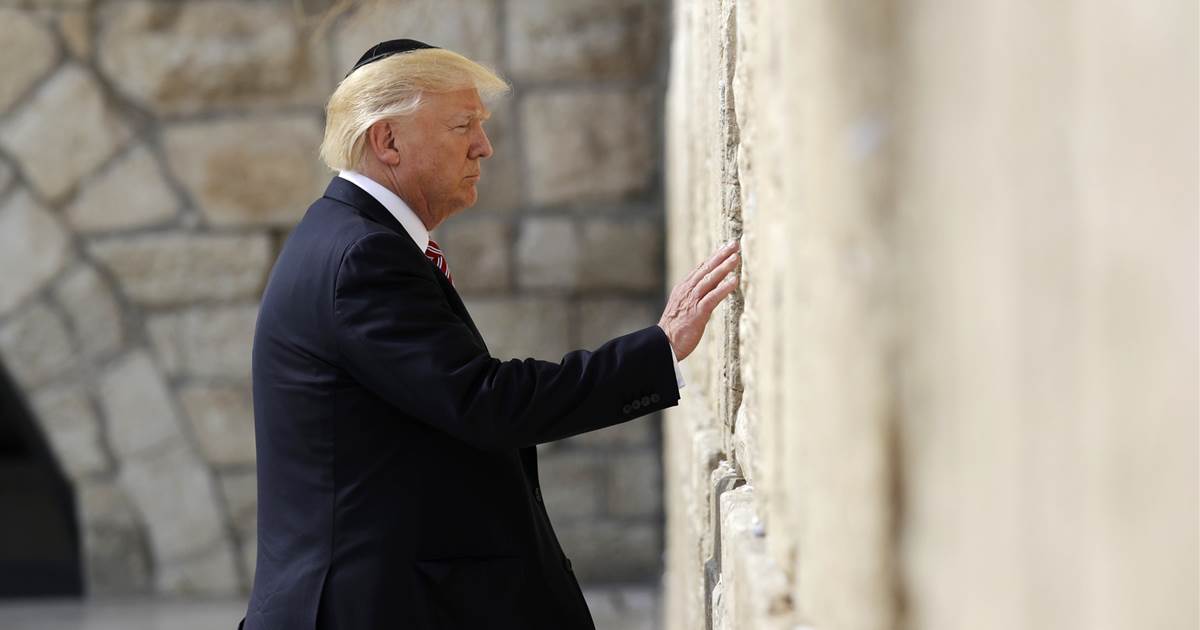 Trump visits the Western Wall
During Trump's visit to Israel he also took time to meet with Palestinian Authority President Mahmoud Abbas in Bethlehem. While initial reports surfaced of a cordial meeting, this was soon disproven by officials with knowledge of the exchange. Trump reportedly screamed at Abbas, saying he had deceived me [Trump] in Washington, after being shown by the Israelis that Abbas personally ha[s] a hand in incitement.
Trump was also furious about the PA's "pay-for-slay" policy of providing salaries to convicted Palestinian terrorists in Israeli prisons and reiterated the demand he had made at the White House for Abbas to end the practice. Abbas told Trump he would not "stop the allowances of the families of the prisoners and Martyrs (Shahids), and emphasized his absolute support for them (i.e., for the payments)."
In a meeting with Palestinian officials on June 20, 2017, Trump's envoy Jason Greenblatt reiterated the demand that the Palestinians cease payments to the so-called Martyr's Fund. A Palestinian official said the meeting did not go well and the request was rejected. Reportedly, the PA increased payments to terrorists and their families in 2018 by nearly $56 million after distributing $347 million in 2017.
In 2018, Trump signed into law the Taylor Force Act, which halted U.S. foreign aid to the Palestinian Authority until Palestinian terrorists and their families cease to be paid.
The United Nations
The Trump administration wasted no time sending a message to the UN that it would no longer tolerate its ally being singled out for condemnation. One of the president's first appointments, South Carolina Governor Nikki Haley, blasted the UN's bias and declared that there "is a new sheriff in town."
A particular target of Israel and the administration's wrath is the Human Rights Council, where some of the world's worst human rights violators pillory Israel and ignore the horrors taking place elsewhere in the world. The Obama administration often protested the absurdity of the council's positions; nevertheless, it remained a member and opposed efforts to cut funding to the UN. Haley called the Council "corrupt," and Tillerson warned the U.S. would withdraw from the Council if it does not undertake "considerable reform."
Israeli Prime Minister Benjamin Netanyahu was the first person President Trump met one-on-one with during the United Nations General Assembly in September 2017. Later that month, Trump's Ambassador to Israel, David Friedman, sparked angry reactions from around the globe when he broke with formal U.S. policy and stated that the settlements are a part of Israel. The U.S. State Department clarified that Friedman's statements did not indicate a shift in policy and should not be used to prejudge negotiations to come.
After weeks of internal debate as to whether to eliminate all UNRWA funding as punishment for opposition to President Trump's policies, the Trump Administration decided on January 16, 2018, that the U.S. would pledge $60 million to Palestinian refugee programs. This is slightly less than half of what was expected, and according to administration officials the remaining $65 million would be held for future consideration. The following week the U.S. State Department announced that they would be withholding an additional $45 million in food aid pledged the previous month in a separate agreement.
Nikki Haley was one of the strongest advocates for Israel to ever serve as ambassador to the UN. Following her resignation in December 2018, she was briefly replace by Jonathan Cohen. Her permanent successor, Kelly Craft, was not allowed to remain in the Cabinet, and is a much more low-key representative; nevertheless, she immediately established herself as a vigorous defender of Israel as well. In September 2019, for example, she blocked a UN Security Council statement on tensions between Israel and Hezbollah because of its criticism of Israel.
Recognition of Jerusalem
On December 6, 2017, President Trump announced the official U.S. recognition of Jerusalem as Israel's capital, and the beginning of the process of moving the U.S. embassy in Israel from Tel Aviv to Jerusalem. The decision was widely criticized by leaders around the globe as detrimental to the peace process. Every other member of the United Nations Security Council voted in favor of a draft resolution reversing Trump's decision two weeks later on December 18, but the resolution was vetoed by the United States. The General Assembly subsequently voted overwhelmingly on December 19, 2017, for a resolution implicitly calling on the U.S. to withdraw its recognition of Jerusalem.
Vice President Mike Pence made at two-day visit to Israel in January 2018. Palestinian officials refused to meet with him in protest of the decision on Jerusalem, but he was warmly greeted by Israelis. During the trip, Pence announced the U.S. embassy would be moved to Jerusalem before the end of the year, contradicting earlier State Department statements suggesting the move would be delayed for years until a new building could be constructed. Soon after, the administration announced that it would move the U.S. embassy to the grounds of the consulate in Jerusalem on May 14, 2018, to coincide with the celebration of Israel's 70th birthday.
The new United States embassy in Jerusalem was opened on May 14, 2018, coinciding with Israel's independence day. Officials from the Trump administration attended the ceremony, along with representatives from 33 other countries. Noticeably absent were representatives from Western European nations.
Iran
The election outcome signaled a change in American policy toward Iran after Trump had repeatedly called the nuclear deal a disaster. In early February 2017, the new administration sanctioned 13 individuals and 12 entities for their support of Iran's detrimental activities. Trump also announced a review of the Iran deal, which he continued to describe as "one of the worst deals I've ever witnessed."
Under the deal, the State Department must update Congress on Iran's compliance every 90 days and Secretary of State Rex Tillerson continued to fulfill that obligation in a letter to House Speaker Paul Ryan saying that Iran is complying with the terms of the agreement. Tillerson also says, however, that Iran "remains a leading state sponsor of terror, through many platforms and methods" and that Trump had ordered an interagency review to determine whether the deal is "vital to the national security interests of the United States."
After Trump had warned he would cancel the nuclear deal with Iran, administration officials spent months trying to negotiate an agreement with European allies on how to strengthen the JCPOA to satisfy the president's concerns. The Europeans were unwilling, however, to make significant changes in the agreement, and were particularly opposed to reimposing sanctions that would threaten their business opportunities in Iran. Consequently, on May 8, 2018, Trump announced the United States would be exiting the nuclear deal
Trump also announced the U.S. would reimpose sanctions lifted as part of the JCPOA and that "no new contracts" with Iran will be permitted. The U.S. Treasury Department said it would halt transactions in Iranian government debt or currency, and purchases involving the country's automobile sector within 90 days. Deals involving Iran's oil and energy sector, shipping and ports, would be banned within 180 days. Individuals and entities that were delisted from sanctions will be re-designated.
In subsequent months, the administration imposed additional sanctions with the objective of bringing Iran back to the negotiating table and allowing the international community to forge a deal that will prevent Iran from building a nuclear weapon and stop its other destabilizing activities. The day after withdrawing from the agreement, Trump warned if Iran resumed its nuclear program, there would be "very severe consequences."
European Union leaders met with their Iranian counterparts to reassure them they would do what they could to protect the JCPOA from the effects of the sanctions. Trump warned, however, that "any nation that helps Iran in its quest for nuclear weapons could also be strongly sanctioned by the United States." Secretary of State Mike Pompeo added later: "We understand that our reimposition of sanctions and the coming pressure campaign on the Iranian regime will pose financial and economic difficulties for a number of our friends. Indeed, it imposes economic challenges to America as well. These are markets our businesses would love to sell into as well. And we want to hear their concerns. But we will hold those doing prohibited business in Iran to account."
The decision to withdraw from the deal was met with widespread criticism from many foreign policy experts, former Obama administration officials and some nuclear proliferation analysts. A poll published by Politico also indicated the American public was split on the decision (40-37 percent opposed pulling out in response to one question but, when worded differently, respondents approved by a 42-40 percent margin) and most felt it made both the United States and Israel less safe.
Meanwhile, America's Middle Eastern allies expressed enthusiastic support for the U.S. announcement. Israel, Saudi Arabia, Egypt, the UAE, and Bahrain all pointed out the flaws in the agreement and hailed Trump's decision.
Trump also sent a message to Tehran when he ordered air strikes in April 2017 and 2018 against targets in Syria which President Bashar Assad had used to launch chemical weapons attacks. By demonstrating that he was willing to use military force when red lines were crossed, Trump put the Iranians on notice that they could not count on using the nuclear agreement as a shield against an American response to their provocations.
In May 2019, tensions between the United States and Iran escalated as American intelligence indicated an increased threat to U.S. interests. American forces were moved to the region and there was heightened concern that the two countries were headed for war. "If Iran wants to fight, that will be the official end of Iran," Trump tweeted on May 19, 2019. "Never threaten the United States again!" He added in an interview with Fox News, "I don't want to fight. But you do have situations like Iran, you can't let them have nuclear weapons — you just can't let that happen."
The same month, Trump said, "We're not looking for regime change. I want to make that clear…We're looking for no nuclear weapons." He added, "I do believe Iran would like to talk, and if they'd like to talk, we'll talk also. . . . Nobody wants to see terrible things happen, especially me."
Asked about his views on Iran during his state visit to Britain, Trump said, there's a "chance" he will order military actions against Iran, but stated, "I'd much rather talk" with Iranian leaders. "There's always a chance [for military action]. Do I want to? No. I'd rather not. But there's always a chance."
Before meeting with French President Macron in June, Trump said, "The one thing that [Iran] can't have is they can't have nuclear weapons. And I think the President of France would agree with that very strongly. I think that he would agree that they cannot have nuclear weapons."
Other Developments
The Trump Administration released a National Security Strategy paper on December 18, 2017, featuring a section detailing the administration's regional Middle East Strategy.
Israeli Prime Minister Benjamin Netanyahu met with President Trump on March 5, 2018. Netanyahu thanked the president for his support, and specifically the recognition of Jerusalem, but the main focus of their meeting was mutual concerns about Iran.
On March 13, 2018, the U.S. hosted a conference with the goal of addressing the humanitarian crisis in the Gaza Strip. Enraged by President Trump's decision to unilaterally recognize Jerusalem as the capital of Israel, the Palestinians rejected an invitation to the conference, which was attended by representatives from 19 nations, including Israel and all of the Arab Gulf states.
On March 25, 2019, Trump announced the United States would recognize Israeli sovereignty over the Golan Heights. Some observers believed the timing of the announcement was meant to help Netanyahu's reelection campaign. A subsequent visit by Pompeo days before the election reinforced this perception as did the administraiton's silence following Netanyahu's campaign remark about annexing the settlements and its decision to designate Iran's Islamic Revolutionary Guard Corps as a foreign terrorist organization.
Trump tweeted his reaction to Hamas rocket attacks on Israel in May 2019: "Once again, Israel faces a barrage of deadly rocket attacks by terrorist groups Hamas and Islamic Jihad," the president said on Twitter. "We support Israel 100% in its defense of its citizens. To the Gazan people — these terrorist acts against Israel will bring you nothing but more misery. END the violence and work towards peace — it can happen!"
In a move many criticized as interfering in Israel's electoral process, Trump tweeted while Netanyahu was working to form a coalition government, "Hoping things will work out with Israel's coalition formation and Bibi and I can continue to make the alliance between America and Israel stronger than ever. A lot more to do!"
Netanyahu was unable to form a government and Israel was forced to schedule another one for September 17, 2019. Trump was not happy about the development. "Israel is all messed up with their election — I mean, that came out of the blue three days ago. So that's all messed up. They ought to get their act together," Trump said. "I mean, Bibi [Netanyahu] got elected, now all of a sudden they're going to have to go through the process again until September. That's ridiculous. So we're not happy about that."
In August 2019, the U.S. Agency for International Development (USAID) signed a Memorandum of Understanding (MOU) with Israel to strengthen the global partnership in development between the two countries.
In November 2019, following the inconclusive election in Israel, Trump said, "They keep having elections and nobody gets elected." He joked that he has a "98 percent approval rating in Israel," and that "if anything happens here, I'm taking a trip to Israel — I'll be prime minister there." He added, "They're all fighting and fighting each other. Here we have other kinds of fighting, but at least we know who the boss is."
Commenting on the flareup of violence during which Palestinian Islamic Jihad fired rockets into Israel, Trump said, "It's crazy, missiles are flying and Israel is shooting back."
The "Ultimate Deal"
After months of deliberating and planning, the administration was expected to finally unveil its peace plan after the April 2019 election in Israel. When Netanyahu was unable to form a government, however, and a new election was called for September the timeline changed. As was the case before April, Trump did not want to release the plan out of concern it might impact the election. With a new government not expected to be formed until close to the end of the year, and the beginning of the U.S. reelection season on the horizon, it is possible the plan will be shelved.
In the short-run, the administration planned to go ahead with a conference in Bahrain on June 25-26, 2019, to discuss the economic elements of the plan. The Palestiinans immediately announced they would boycott the meeting and lobbied Arab governments to do the same.
Meanwhile, Pompeo reinforced widespread skepticism of the plan when he told a group of Jewish leaders the administration peace plan "may be rejected," Trump responded on June 2, 2019, "Look, we're doing our best to help the Middle East to get a peace plan, and he [Pompeo] may be right. I mean, most people would say that," he said. "But if we can get a Mideast peace plan that would be good. And when Mike says that, I understand when he says that, because most people think it can't be done. I think it probably can. But as I say often, we'll see what happens."
In what some analysts viewed as an effort to aid Netanyahu's campaign just three days before the Israeli election, Trump said on September 14, 2019, he discussed a possible "mutual defense treaty" between the U.S. and Israel in a call with the prime minister. He tweeted, the potential deal would "further anchor the tremendous alliance between our two countries." He added that he looked forward to "continuing those discussions after the Israeli Elections when we meet at the United Nations later this month!"
On January 28, 2020, the much anticipated peace plan was released during Netanyahu's visit to Washington. The Prime Minister welcomed the initiative, which received a mixed reception in the American Jewish community. Several left-leaning organizations denounced it because the Palestinians were not involved in its formulation and the conception of a two-state solution is dramatically different from past peace plans. Even some on the right were critical of its call for the creation of a Palestinian state with its capital in a part of Jerusalem. Some liked that Israel would be allowed to annex about 30 percent of the West Bank and that no settlements would have to be evacuated, but were less happy with the proposed four-year freeze on the establishment of new communities. No one was entirely satisfied, but the president's supporters generally viewed the plan as consistent with his pro-Israel positions while his detractors saw it as a case of interfering in Israel's upcoming election for the benefit of Netanyahu.
Reversing Policy on Settlements
On November 18, 2019, Secretary of State Michael Pompeo announced a shift in U.S. policy on settlements. He said, "The establishment of Israeli civilian settlements in the West Bank is not per se inconsistent with international law."
Pompeo acknowledged a legal opinion that the settlements were illegal was expressed during the Carter administration. He noted that Ronald Reagan rejected this opinion. Pompeo also recalled that his predecessor had referred to them as illegal, but the Trump administration agreed with the Reagan interpretation.
---
Sources: Trump visits with Jordan's King Abdullah in Washington, Reuters, (February 2, 2017);
"Transcript And Analysis: Trump And Netanyahu Hold Joint Press Conference," NPR, (February 15, 2017);
Kavita Surana, Dan De Luce and Robbie Gramer, "Israeli Intelligence Furious Over Trump's Loose Lips," Foreign Policy, (May 19, 2017);
Peter Baker, Michael Shear, and Ian Fisher, "Trump Comes to Israel Citing a Palestinian Deal as Crucial," New York Times, (May 22, 2017);
Phillip Rucker and Karen DeYoung. "In Israel, Trump urges new Middle East 'harmony' but faces old suspicions," Washington Post, (May 22, 2017);
Herb Keinon, "Official says Palestinian terror glorification going out of style under Trump," Jerusalem Post, (May 28, 2017);
Loveday Morris, "U.S. ambassador breaks with policy: 'I think the settlements are part of Israel,'" Washington Post, (September 29, 2017);
"U.S. vetoes U.N. Jerusalem resolution, designed to reverse Trump recognition," CBS News, (December 18, 2017);
Ruth Eglash and Jenna Johnson, "Prospects of peace elusive as Pence wraps up visit to Middle East," Washington Post, (January 23, 2018);
"President Trump Gives a Statement on Jerusalem," The White House, (December 6, 2017);
"National Security Strategy of the United States," The White House, (December 2017);
"PM Netanyahu's Remarks at the Start of his Meeting with US President Donald Trump," Israeli Prime Minister's Office, (September 18, 2017);
Steve Holland. "Exclusive: Trump likes two-state solution, but says he will leave up to Israelis, Palestinians," Reuters, (February 23, 2017);
Statement by the Press Secretary, (February 2, 2017);
"U.S. Ambassador to the United Nations Nikki Haley address to AIPAC Policy Conference," (March 27, 2017);
Somini Sengupta. "Nikki Haley Calls United Nations Human Rights Council 'So Corrupt,'" New York Times, (March 29, 2017);
John Hudson Lynch, "Tillerson To U.N. Rights Council: Reform or We're Leaving," Foreign Policy, (March 14, 2017);
Margaret Hartmann, "Trump Orders Review of Iran Nuclear Deal, Though Iran Has Been Complying," New York, (April 19, 2017);
"US-Israel Relations and Obama's Mixed Legacy Followed by the Uncertainty of Trump," in Arnold Dashefsky and Ira Sheskin, Eds., American Jewish Yearbook 2017, (CT: Springer, 2018);
Nathan Guttman, "How Payments To Terrorists Became An Issue At The Trump-Abbas Meeting," Forward, (May 4, 2017);
Jack Moore, "Trump Raged At Palestinian Leader Mahmoud Abbas In Bethlehem Meeting: 'You Lied To Me,'" Newsweek, (May 29, 2017);
Itamar Marcus and Nan Jacques Zilberdik, "Did the PA lie to the US Secretary of State?" Palestinian Media Watch, (June 14, 2017);
"Kushner kicks off Mideast peace push with first solo visit," Associated Press, (June 21, 2017);
Lahav Harkov, "Palestinians Increase Payments To Terrorists To $403 Million," Jerusalem Post, (March 6, 2018);
Cristiano Lima, "Trump warns of 'very severe consequence' if Iran restarts nuclear program," Politico, (May 9, 2018);
"Saudi Arabia, UAE, Bahrain, Egypt Welcome President Trump's Withdrawal From JCPOA," MEMRI, (May 9, 2018);
National Tracking Poll, Politico, (May 10-14, 2018);
Ori Lewis, "Most foreign envoys absent as Israel, U.S. launch embassy festivities, Reuters, (May 14, 2018);
Mike Pompeo, "After the Deal: A New Iran Strategy," remarks at the Heritage Foundation, (May 21, 2018);
Philip Gordon and Prem Kumar, "Jared Kushner's Middle East Fantasy," The Atlantic, (June 25, 2018);
Herb Keinon and Tovah Lazaroff, "Netanyahu To Pompeo: Time For The U.S. To Recognize The Golan As Israeli," Jerusalem Post, (March 20, 2019);
"Pompeo, in first, accompanies Israeli PM to Jerusalem's Western Wall," Reuters, (March 21, 2019);
Adam Taylor, "What Trump did to push the Israeli election in Netanyahu's favor — and what he didn't do," Washington Post, (April 9, 2019);
Ron Kampeas, "4 Democratic Presidential Candidates Weighed In On The Gaza Violence," JTA, (May 6, 2019);
Sam Dorman, "Trump takes on Biden, vows not to let Iran get nuclear weapons during Fox News interview," Fox News, (May 20, 2019);
Michael Kranish, "Trump says he is not seeking 'regime change' in Iran," Washington Post, (May 27, 2019);
@realDonaldTrump, (May 27, 2019);
Chris Mills Rodrigo, "Trump: Pompeo 'may be right' in casting doubt on Middle East plan," The Hill, (June 2, 2019);
Amir Tibon, "Trump on 'Messed Up' Israeli Election: 'Not Happy, Get Your Act Together,'" Haaretz, (June 3, 2019);
Rym Momtaz, "Macron and Trump (almost) kiss and make up," Politico, (June 6, 2019);
Interview on Good Morning Britain, (June 5, 2019);
"Trump Says He Talked Defense Treaty With Netanyahu, to Be Discussed After Israel's Election," Haaretz, (September14, 2019);
"US blocks UN Security Council statement on Israel: source," Agence-France Presse, (September 5, 2019);
Amir Tibon, "Trump: Gaza Violence 'Crazy,' Israel 'Keeps Having Elections and Nobody Gets Elected,'" Haaretz, (November 12, 2019).